Project Cal-Well raises mental health awareness and expands school and community-based mental health services among students, staff, and communities in California.
Funded by the Substance Abuse and Mental Health Services Administration (SAMHSA), Project Cal-Well is designed to raise awareness of mental health and expand access to school and community-based mental health services for youth, families, and school communities.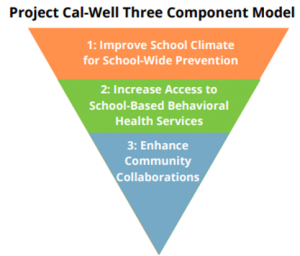 Project Cal-Well was initially launched by the California Department of Education (CDE) in partnership with three Southern California local education agencies (LEAs) from 2014–2019: Garden Grove Unified, ABC Unified, and San Diego County Office of Education (COE). Building off successes and lessons learned from the first cycle, the CDE is partnering with three LEAs in Northern California for the second cycle (2019–2024): Humboldt, Stanislaus, and Sacramento COEs. The University of California, San Francisco (UCSF) School Health Services Research & Evaluation Team is evaluating the initiative.
Visit the UCSF School Health Services Research and Evaluation site to learn more about the evaluation team and access Project Cal-Well evaluation briefs.
Visit the CDE's Project Cal-Well site to read an in-depth overview of Project Cal-Well.
2019–2024 Project Cal-Well Grantees:
Humboldt County Office of Education
Sacramento County Office of Education
Stanislaus County Office of Education
For more resources on youth mental health, visit the CDE's Mental Health Resources Page.
Questions about Project Cal-Well? Please contact Hilva Chan at [email protected].
Youth Mental Health First Aid
The CDE is currently offering Youth Mental Health First Aid (YMHFA), a research-based curriculum based on the medical first aid model, to schools and districts at no cost under Project Cal-Well.
YMHFA teaches a five-step action plan to support a school-age child or youth who may be experiencing emotional distress, the onset of a mental illness, addiction challenge or who may be in crisis. YMHFA participants learn to recognize signs and symptoms of children and youth in emotional distress, initiate and offer help, and connect the youth to professional care.
YMHFA training is designed for participants, such as teachers, administrators, classified staff, parents, family members, and any caring adults that do NOT have a mental health background.
This no cost, six and a half hour training is currently delivered virtually through two hours of self-paced and five and a half hours of instructor-led training. The training can be delivered in evenings, weekends, and in Spanish.
YMHFA content now includes critical components such as cultural considerations, impact of culture on trauma, school violence and bullying, social media impacts, and self-care. Additionally, the training has been restructured to include information relevant to young children in the elementary school grades.
The CDE is seeking public, charter, and private schools, districts, and community organizations to host YMHFA training. For more information, or to request this free training, email [email protected].
Featured Cal-Well Resources
Related Resources